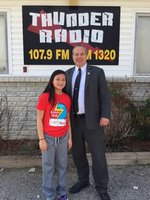 Kasen Holt with TN State Representative Matheny in Spring 2017
PRESS RELEASE
Manchester, TN – National Beta is proud to announce Kasen Holt of Westwood Middle School, as a 2017-2018 Junior Beta Leadership Ambassador. This award is given annually to deserving Junior Beta members who best demonstrate quality leadership through effective team work, inspiration to fellow peers, a courageous attitude, and honest character.
Kasen is one of only 10 Leadership Ambassadors who obtained this honor from 122 potential candidates. Winners were announced during National Beta's Annual Summer Leadership Camp in Greeneville, TN late July wherein elementary and middle school Beta members from across the nation gathered for leadership training. Members spent the week working alongside nationally-recognized speakers and National Beta staff in a variety of leadership and team-building activities and adventures.
As part of her duties as Leadership Ambassador, Kasen will represent National Beta at various National Beta sponsored events, promote Beta as part of organizational growth initiatives and advocate for leadership opportunities in her community.

"Kasen consistently encouraged teamwork among her peers. It is obvious, she knows the value of leading others for the good of the whole. Kasen is a valuable member of the Junior Beta Leadership Ambassador team" said National Beta's Chief Executive Officer, Bob Bright.
About National Beta
National Beta is the largest independent, non-profit, educational youth organization in America. Since its beginnings in 1934, National Beta has been committed to providing students with a positive experience in a supportive manner in grades 4-12. The organization recognizes outstanding achievement, promotes character and social responsibility, encourages service involvement to school and community, and fosters leadership skills.

For more information about National Beta visit, betaclub.org